… at least for now. It is still missing a few art pieces I won't be able to complete until after baby boy is born. It's also missing a toy box that baby's daddy and grandfather will be building during our next trip to PA. But, for now, it's finished! I have finally satisfied my nesting impulses and can maybe relax a little before baby comes.
This room was originally M's room, and was vintage circus themed, which I loved. Then it was briefly my craft room/photography office. As soon as I found I was pregnant, I planned on this being the nursery. It's the smallest of our three bedrooms, and is really the perfect size since babies don't need a whole lot. I had a pretty specific plan from the start, and it didn't change with knowing the sex of the baby. So, it's pretty neutral, which is how I like baby things. It's also my favorite colors :)
I mostly re-used things we already had. The major purchases were the rug, crib (we had sold M's crib before I was pregnant), and glider. I REALLY did not want to buy that glider. I think they are ugly, and it was one of our most expensive baby purchases. I settled on a cheap neutral one, and we finally put it together over the weekend. My goodness, it is the MOST comfortable thing ever! I am so glad I broke down and got one. I wish I could sleep in it, because it feels great on my preggo back. I can't wait to rock my baby in it. Baby boy will be sleeping in our room in the pack n play or rock n play for as long possible to make breast feeding easier (master bedroom is on the first floor and the other two are upstairs), so the crib won't be used for a little while still.

We have our changing table set up in our room. I survived two in diapers without a changing table and never thought they were necessary, but with this baby we are going the cloth diaper route and they take up lots of space. Plus we need a designated wet bag and diaper pail for the dirty ones instead of just tossing them in the trash, so I decided to go ahead and get a changing table. For baby boy's nursery, I just have an extra changing pad on the dresser with diaper supplies in the dresser. This poor ikea dresser has seen better days; it survived our first few years of marriage and then was A and D's dresser. I have already purchased this one as a replacement, but it hasn't gotten put together yet. It is also too tall to be a changing table so I'm going to wait to switch them out until baby boy is sleeping in his own room consistently and we can just move the changing table up too.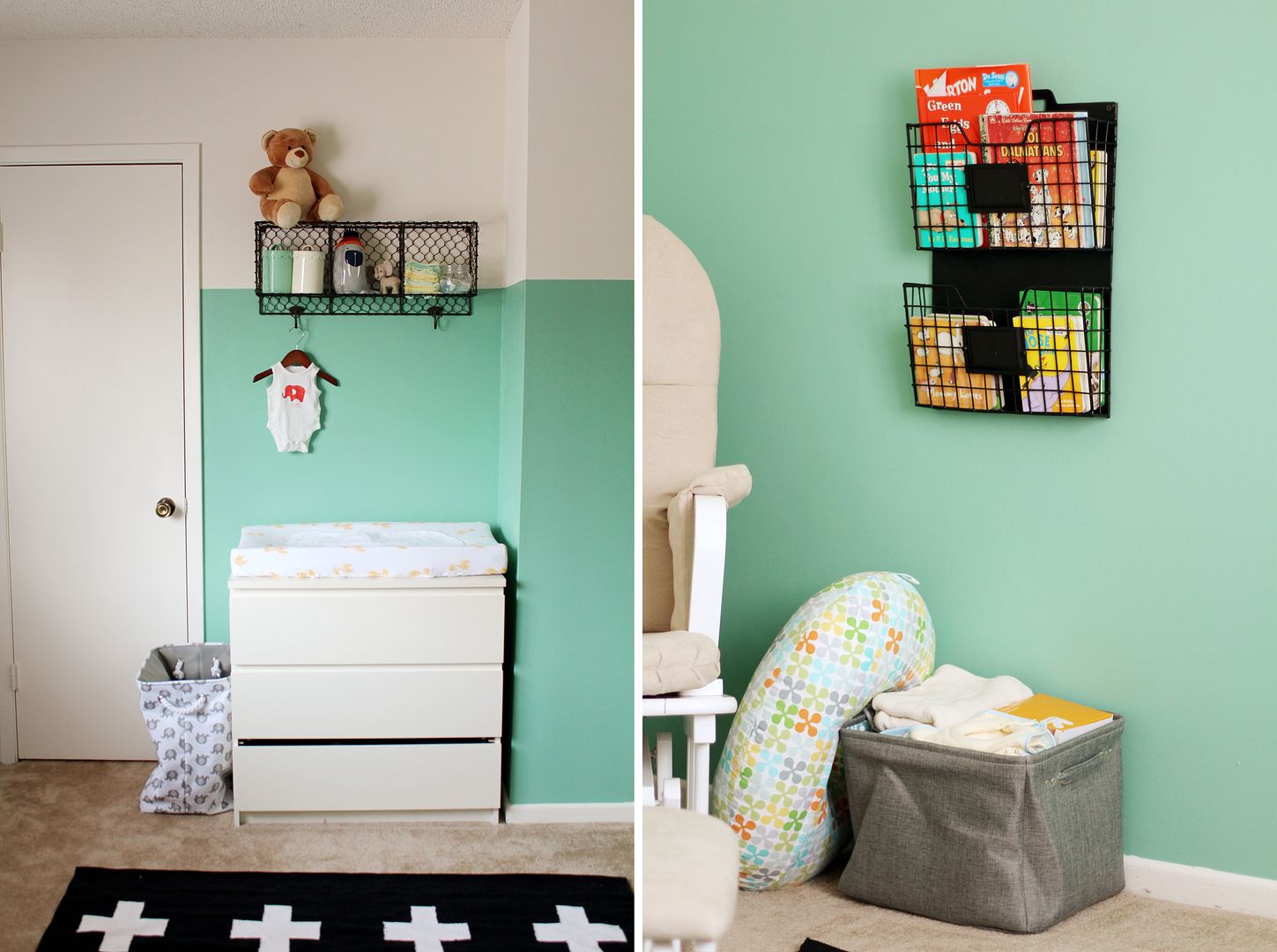 The basket next to the glider is full of bibs, burp cloths, and breast feeding/pumping supplies. The basket in the nightstand has a few books I am reading, some more burp cloths, and the drawer will have lots of snacks.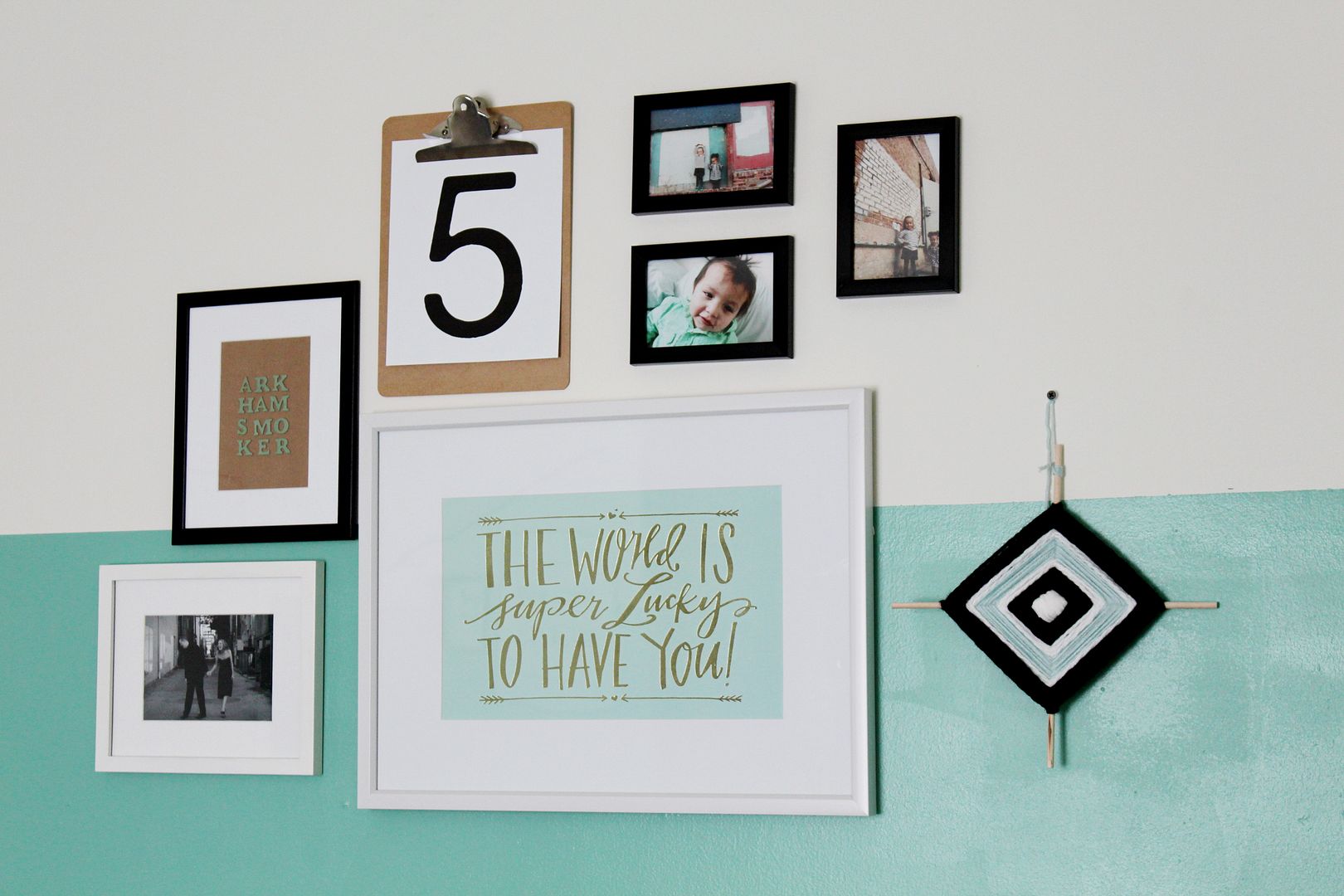 I filled the wire file shelf with our favorite kids books. It was bittersweet going through all of the little board books and children's books I read over and over again to A, D, and M. So many fun memories. I'm excited to share the same books with this baby. I did buy one book specifically for this baby boy though! If you remember this post, where I told my plans for a special book, you'll recognize this book is from the same author. I am continuing that tradition, with this book for our baby boy.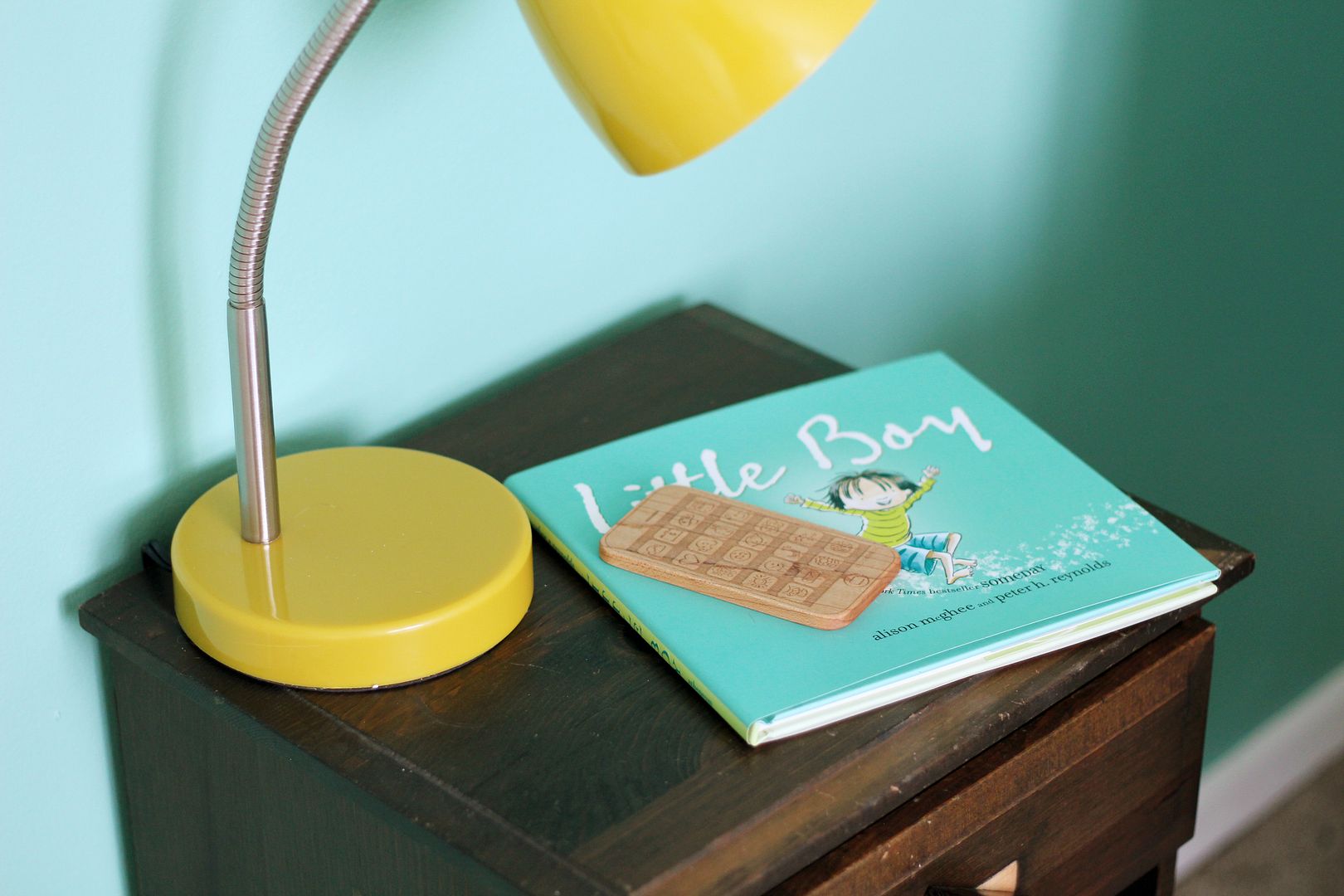 The monkey pillow was originally in M's room, a present from his first Christmas.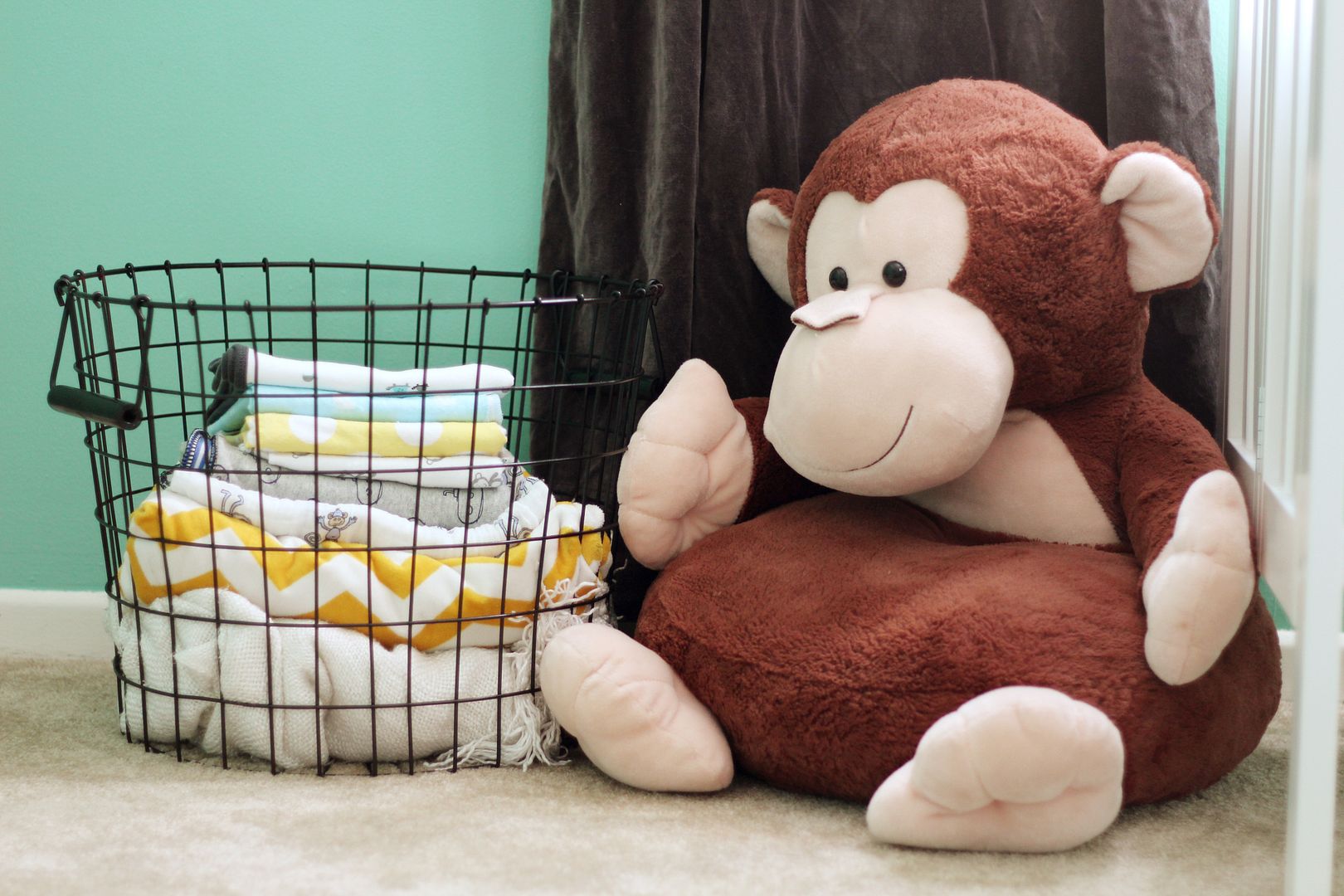 I am pretty pleased so far, and can't wait to get the rest of the frames and art up once baby boy is here. Any day now guys!
Sources:
Wall Color: BEHR Indian Ocean from Home Depot
Mini Crib: Dream on Me from Amazon (I also bought an additional mattress)
Black wire book shelf- spray painted black and re-used from M's room, originally red from Hobby Lobby
Black wire basket- painted black and re-used from M's room, originally red from Home Goods
Brown wire shelf- World Market
Curtains: purchased from World Market several years ago (similar here)
Elephant Hamper- Home Goods
Gray Fabric Baskets- TJ Maxx
Glider and ottoman- Target
Yellow Lamp- Target
"The World is Super Lucky to Have You" Framed Art- Hobby Lobby
All other art- made by myself or re-used from other parts of the house and reframed with frames on hand
 Night Stand- made by my father in law many years ago
Rug- Pattern Society
Personalized iPhone teether- 3PrincessesStore on Etsy.com